---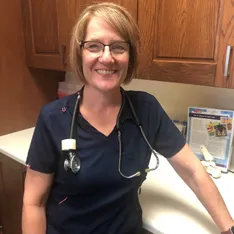 Registered Nurse
Susan was born and raised in Heber City, Utah. She graduated in Nursing from Brigham Young University. She worked as an RN at Utah Valley Regional Medical Center for 12 years on the med/surg floor. Susan then left to be at home full time to raise her kids. She is so excited to be working with patients again.
Susan has a loving husband, 4 great children and one adorable grandchild. They have lived in Lehi since shortly after they were married and have enjoyed watching their children grow in such a positive community.
---
Medical Assistant

---
---
Medical Billing
Sherry grew up in Bennion, Utah and has resided in Lehi for the past 13 years with her husband and 5 amazing children, and 2 adorable grandchildren. She and her family enjoy baseball, hiking, gardening and spending time together. In 2017 she decided to go back to school where she attended Mountainland Technical College and earned her certificate in Medical Billing and Coding. She has a passion for helping people & enjoys working within the health care industry.
---
Marketing

Debbi has lived in many places, including, Mississippi, Idaho, Arkansas, Iowa and Washington, but now proudly calls Lehi home. She has a degree in Public Relations from the University of Utah. Debbi enjoys enjoys spending time with her family, running, reading and volunteering at her kids' school in her free time.